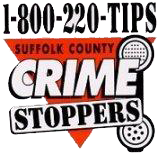 Suffolk County Crime Stoppers is a not-for-profit community based organization that works with the Suffolk County Police Department it offers anonymity and cash rewards to people who furnish information leading to arrest. Our Board of Directors are volunteers and receive no compensation. 100% of the donations that we receive are used in our efforts to reduce crime.
Crime Stoppers of Suffolk County is a member organization of Crime Stoppers USA Inc.
Help the Suffolk County Police Department keep your community safe through Crime Stoppers! You are the greatest resource the Suffolk County Police Department has to prevent and solve crimes. Tips or information regarding past crimes and drug dealing can be anonymously submitted in a number of ways, and you may be eligible for a reward of up to $5,000 if your tip results in an arrest.
To report a crime anonymously, call 1-800-220-TIPS, utilizing a mobile app which can be downloaded through the App Store or Google Play by searching P3 Tips, or online at www.P3Tips.com. All calls, text messages and emails will be kept confidential. Crimes in progress and suspicious activity should be immediately reported by dialing "911". Thank you for assisting the Suffolk County Police Department with making the community safer.